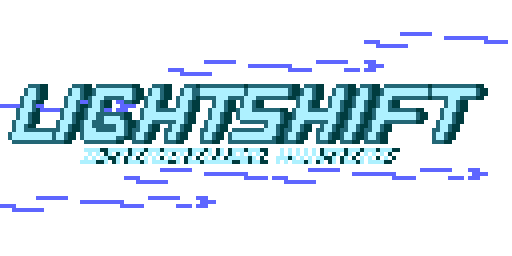 LIGHTSHIFT - Interstellar Hunters
A downloadable Project Shift for Windows and macOS
Go into bullet-time with the 'Shift' ability! You're in control of the game's pace!"

A space battle between factions seeking survival, justice, glory and vengeance... In a universe filled with mutants, spaceships and galaxies, takes place a 2D shmup inspired by the old classics.

Explore many stages - both in space and on different planets - as you blast your way through enemies! Different routes in stages can lead to branching paths!
The Full Game is available now! Link Below!
Install instructions
This is the first Full Release!

The game autosaves after each stage, and you can access them through the Chapter Select menu!

There are 2 endings available!
Data from previous builds is already compatible!
Download the .rar file and extract with winrar, otherwise, use 7zip. Then, you're good to go! Just open the game by clicking the icon!
Download
Comments
Log in with itch.io to leave a comment.
Awesome shoot em up...Impressive & great work...Both Thumbs UP!!!
Heh Lightshift is awesome <3